Maria "Mimi" Coto is a Student Assistant and the Conscious Editing Intern in Tampa Special Collections, working with the Hipple Collection of Young Adult Literature and LGBTQ+ Collections. She presented her LGBTQ+ Inclusion through Conscious Editing work at the 2021 USF Undergraduate Research Conference this past month and was awarded Best of Arts and Humanities! Mimi is graduating this Spring with her degree in English, Literary Studies, with a minor in Women's and Gender Studies. In her free time, she loves to try new coffee shops, watch women's soccer, and spend time with loved ones.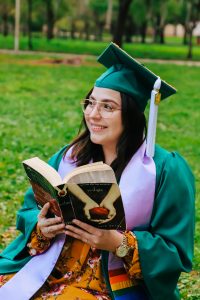 HOW HAS WORKING AT THE LIBRARY AIDED IN YOUR CAREER GOALS?
Working in the Library has allowed me to build cataloguing skills that I hadn't previously had. It also showed me that I have a passion and interest in working closely with special texts.
WHAT ARE THE NEXT STEPS IN YOUR CAREER?
I will be starting my Master of Arts in Literature at USF this Fall!
WHAT ADVICE WOULD YOU GIVE SOMEONE ON A SIMILAR PATH AS YOURS?
Don't be afraid to step out of your comfort zone and apply to positions or internships that you might not have thought about before.
WHAT HAVE YOU ENJOYED MOST ABOUT WORKING AT THE LIBRARY? WHAT WILL YOU MISS MOST?
I have so enjoyed learning new skills and making connections with the awesome Library staff members. I will absolutely miss being able to explore the Hipple Collection and combine my passion for queer and literary studies!
HOW HAS IT BEEN WORKING AND STUDYING DURING A PANDEMIC?
Finishing my undergraduate degree during the pandemic has been challenging and definitely heightened my stress. However, I was thankful for the ability to continue and have accommodating professors and peers.
FACED WITH THESE CHALLENGES, HOW DID YOU BALANCE IT ALL?
Though balance was difficult, I was able to quickly learn that keeping a routine (generally and with school work) was key to being able to finish strong.
WHAT'S ONE SKILL OR FACT YOU LEARNED ABOUT YOURSELF OVER THE PAST YEAR OF THE PANDEMIC?
I learned that when faced with a challenge, I can rise to the occasion and balance school with general life stress.
IF YOU WEREN'T SOCIAL-DISTANCING RIGHT NOW, WHAT WOULD YOU BE DOING?
If I wasn't social distancing, I would absolutely be traveling with my partner and making new memories!
---
Congratulations on graduating and your recent award, Mimi! We are thankful for your contributions! Good luck in all your future endeavors, and at USF this Fall! GO BULLS! 🤘