Audrey Powers is an Associate Librarian at the USF Tampa Library and the librarian serving the College of The Arts (CoTA), including the Schools of Architecture & Community Design, Art & Art History, Music, Theatre & Dance, and the Institute for Research in Art.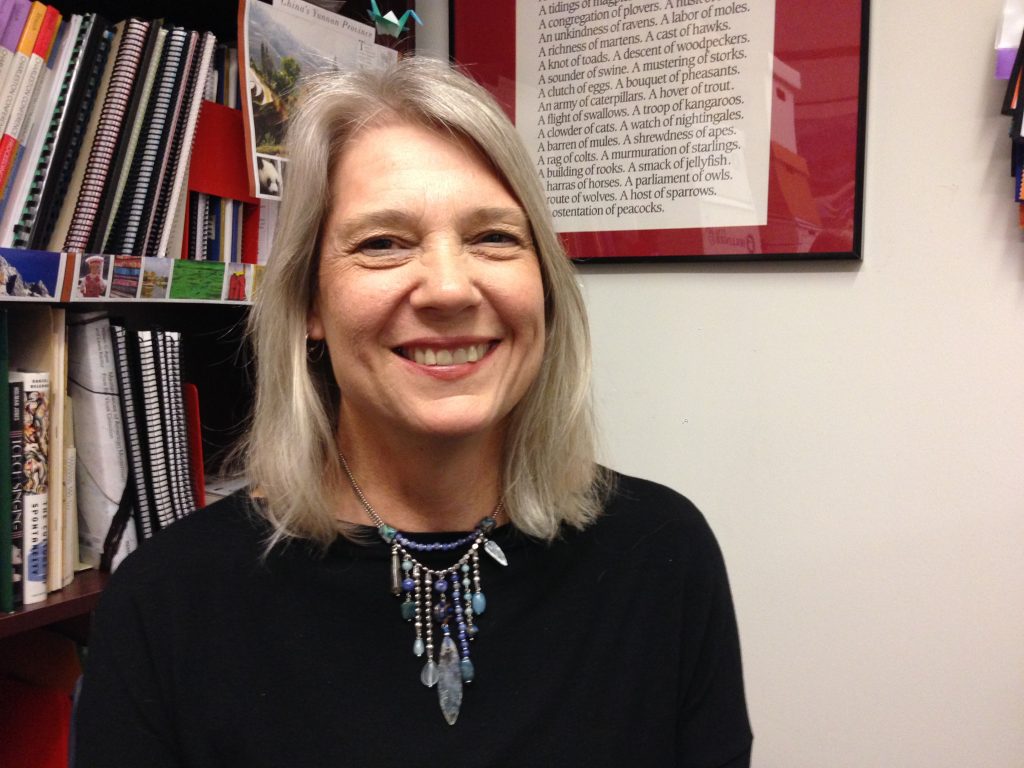 Native to Wantagh, New York, Audrey spent her early years hanging at Jones Beach. Her interest in becoming a librarian only started when she worked at a university library and realized she enjoyed the work. "I liked what I was doing, and so I embarked on getting my degree in library science. It happened by circumstance," she shares. She received her Master's in Library and Information Science from Long Island University, where the day after she graduated, she was offered a position at the world–renowned Cold Spring Harbor Laboratory, which specializes in genetics. Her path then led her to work in the sciences, medical libraries, and then arts here at USF.
"I love working with the students and faculty in the College of The Arts because their ideas, projects, and thinking are unique and interesting. I have the best job!"
Audrey prides herself in being an instrumental resource to students, aiding in their successes and connecting with them by answering questions or directing them to resources for learning and research. When asked if she has any advice for those looking to embark on a similar path in librarianship, she recommends "to volunteer, and work in a library of your choosing to observe and participate in library processes and procedures to determine whether it is a good fit for your personality and your abilities."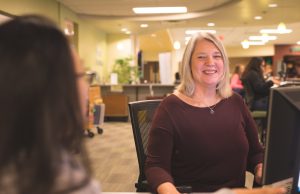 On an average day, you'll find her in front of her computer, but on a day off, she says, "Oh I'm definitely watching Hamilton." She enjoys spending time in the garden "growing herbs, cooking using the herbs, and snuggling with [her] dogs who don't care about herbs." With regards to her plans in the future she says:
"More dogs and more gardening adventures. I'm also interested in researching topics such as what makes scientists and artists 'visualize' in very similar ways, and what is the neurological basis for the way we read print books versus electronic books."
Her interest in visualization and how we interpret information is also part of her professional research here at USF. She and her husband Marc Powers, USF Professor and Director of the School of Theatre & Dance, have partnered together in doing research on literacy, including a presentation and article that was presented at last year's Charleston Conference. The article will be released this October in The Charleston Conference Proceedings.
As we celebrate International Literacy this week, we asked Audrey & Marc about their work and research on literacy:
How important would you say the skill of literacy is?
Audrey: Literacy is extremely important. It used to mean the ability to read and write, but it is so much more than that in today's world. There's visual literacy, kinesthetic, spatial, and more. For example, it's about the structure and what the actual dialogue is saying; it's a combination of what is said and how it's said. It is critical to be multi-literate in order to be a fully functioning citizen today.
What would you say is essential to literacy in a community
?
and how can we improve our
trans-literacy
skills?
Audrey: Being able to recognize and understand meaning and intent in all forms of communication. Also being open-minded to learning and incorporating literacy in our daily lives.
What are some examples of trans-literacy
within the context of your expertise and
career?
Marc: I kept thinking more and more about the different types of literacies that are involved in the performing arts in particular. I realized in theatre we're compartmentalized in so many ways; we have people who focus on acting, and people focused on design, others on directing, playwriting etc., and I realized there are several literacies involved here. One is obviously text, but then the reality is we are focused on the sounds of the words as much as we are focused on the words themselves. And we're focused on the other ambient sounds that we want to incorporate in the world of the play, even the visual look and all of the different things that that communicates. We're very much focused on kinesthetic: what different kinds of movement says, and how space is used—the spatial aspect. So, for me, the word 'transliterate' is putting them all together in a way that is indistinguishable. Putting them all together instead of looking at them as separate qualities.
Audrey: For me, I was given a charge by our Dean to develop visual literacy, so I started exploring that and attending several workshops. It became very clear how dependent we are on visual literacy in today's world. Even so much so that the Association of College & Research Libraries (ACRL) has developed information and visual literacy standards for information literacy, which informs librarians how to instruct students and library patrons to critically think when conducting research, and then coupling that with using the library. And of course, Marc and I did a presentation a year ago at a well-known library conference in Charleston, South Carolina.
Can you recommend any resources for trans
–
literacy at the Library?
Audrey: The Library has many resources that explore various literacies, such as visual, kinesthetic, aural, etc. They can be found most readily by checking out the Subject Guides and Collections. In addition, I plan to incorporate the results of a Qualtrics survey on visual literacy that I recently created and sent out to USF faculty. I hope to understand their needs and requirements in their disciplines and in their classrooms, and student expectations. The data will inform me as to what is needed for further exploration, and to create a visual literacy subject guide. I also plan to do a module for our course management system.
Is there anything else you'd like to add?
Audrey: Stay safe! Vote!
If you need research assistance, or have any questions for Audrey, you can contact her at apowers@usf.edu.