Back in November 2020, we celebrated our Fall student scholarship and research award recipients, and we have another wonderful student at the Tampa Library to spotlight this month.
Advertising and Public Relations major, with minors in Political Science and Women & Gender Studies, graduating 2021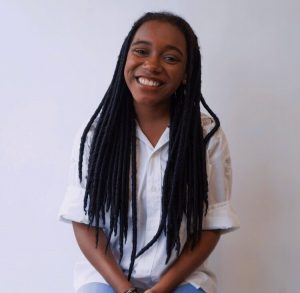 What interested you in applying for this research award?
I was interested in applying for this research award because I've always been a fan of science fiction. However, I've never seen myself represented in the science fiction I've read because of the lack of diversity when it comes to Black and Brown women. This research award allowed me to explore science fiction outside of the Eurocentric perspective by using the extensive
resources that Special Collections has to offer on a wide range of Latin American Science Fiction materials. I was able to fall in love with the genre all over again while gaining a historical perspective.
What was your favorite part of the research experience?
Through this research project I was able to discover authors like Diego Cañedo who fought against fascist propaganda in his country, and Eglantina Ochoa Sandoval who explored race in the genre. I cannot express enough how thankful I am for this opportunity.
Thank you to all who have donated to Special Collections. Your donation allowed me to explore an underrepresented subsection of the science fiction genre that deserves recognition for being the literary gem that it is.
---
Are you a student interested in applying to the current cycle of scholarships and research awards? Head to Awardspring via www.usf.edu/financial-aid/scholarships/.
The Libraries' scholarship and research award program ensures USF students are given opportunities to learn, discover, and succeed. You too can support students by donating to these scholarships and awards. Contact Christina Wisz, Associate Director of Development, at cwisz@usf.edu.