Matthew Ginquitti is a Student Technology Center Assistant over at the USF St. Petersburg Nelson Polynter Memorial Library. He'll be graduating this semester with a Bachelor's in Accounting!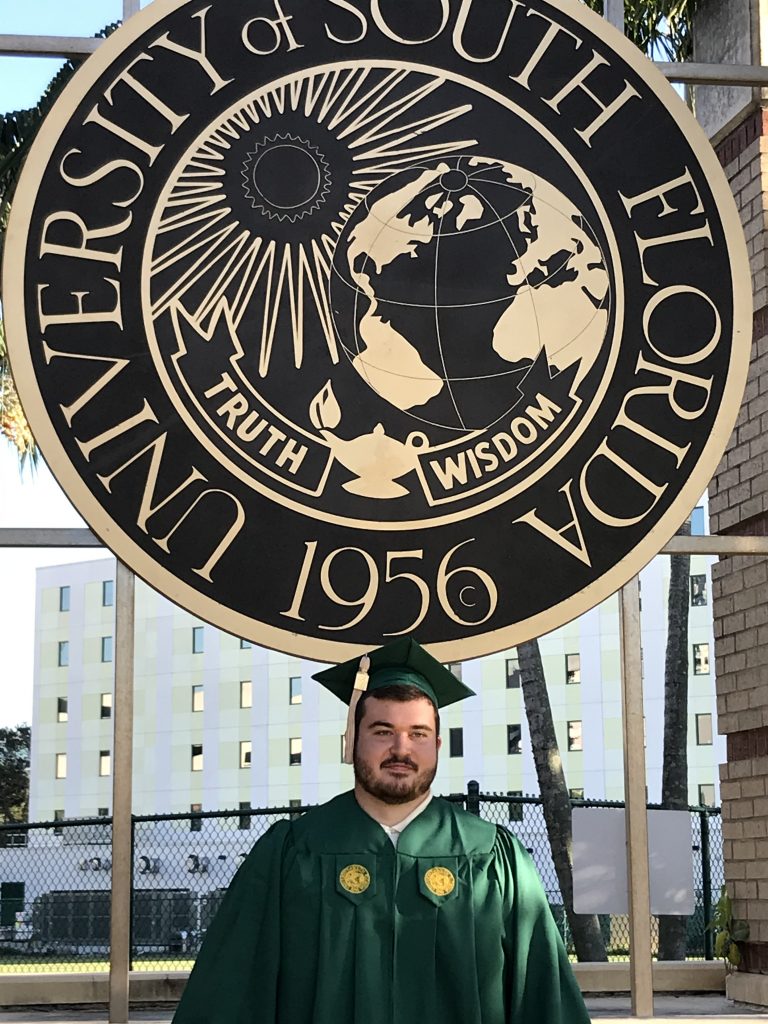 HOW HAS THE LIBRARY CONTRIBUTED TOWARD YOUR ACADEMIC GOALS?
The library has helped me achieve my academic goals by providing a source of income on campus that allowed me to travel less, and gave me a place to study before and after work.
HOW HAS WORKING AT THE LIBRARY AIDED IN YOUR CAREER GOALS?
Working here gave me experience working with many different people which I believe is beneficial in the future.
WHAT ARE THE NEXT STEPS IN YOUR CAREER?
After I graduate, I'm going to continue looking for accounting work, and studying for my CPA exam. I would like to do graduate studies here to finish my requirements for the CPA exam, but that might be a semester or two from now.
WHAT ADVICE WOULD YOU GIVE SOMEONE ON A SIMILAR PATH AS YOURS?
For somebody following an Accounting path, I would recommend just jumping in headfirst and seeing what happens. I was hesitant with some opportunities I had, but every single opportunity I took turned out to be beneficial. Just don't miss out on opportunities.
HOW HAS IT BEEN WORKING AND STUDYING VIRTUALLY? HOW DID YOU BALANCE THEM BOTH?
Studying and working virtually proved to be challenging. I was always one that avoided online classes, so it was especially difficult adjusting. The biggest issue was being responsible enough to study as much as I would have if I was on campus. Also, working with other students was difficult which normally would help.
WHAT'S ONE SKILL OR FACT YOU LEARNED ABOUT YOURSELF OVER QUARANTINE?
Over quarantine I learned that I don't need to be doing tons of social activities, and that the important things in life are being healthy and happy. For the most part I realized how much time I wasted going out, and how much money I wasted. With quarantine my activities were limited.
IF YOU WEREN'T SOCIAL-DISTANCING RIGHT NOW, WHAT WOULD YOU BE DOING?
Normally I would be doing something with friends or meeting new people. While social distancing I've just been spending time with family and a few close friends.
---
Congratulations on graduating, Matthew! We wish you much success; and as always, GO BULLS! 🤘