Matt Knight, PhD, is an Associate Librarian at the USF Tampa Library, the Content Expert for the History Research Platform Team (RPT), and Affiliate Faculty in the USF History department. He is graduating this Spring with his PhD in Celtic Languages and Literatures from Harvard University! When asked what Dr. Knight loves doing outside of work and school he shares, "I look forward to finding out! I have spent much of my time out of work researching for this degree, and have had to sacrifice a great deal of free time with my family. I'm excited for many family trips to the zoo, the beach, or the mountains without having to wave goodbye while I remain home to work on 'The Project.'"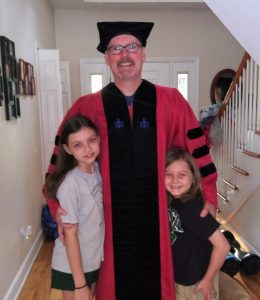 HOW HAS THE LIBRARY CONTRIBUTED TOWARD YOUR ACADEMIC GOALS?
This project would not have been possible without the tireless efforts of Sandra Law and the Interlibrary Loan (ILL) department at USF Libraries. Sandra managed to wrest many microfilm reels out of the hands of unwilling lenders, and always went above and beyond to support my research. I do not know how Sandra did it sometimes, but if she were unable to get a resource, I knew nobody could.
HOW HAS WORKING AT THE LIBRARY AIDED IN YOUR CAREER GOALS?
I have always loved doing research and teaching. I have been able to explore the incredible collections in the Libraries for my own publications, and to assemble valuable materials for students to explore for their term papers in my classes. The RPT model has allowed me to integrate primary-source research into my teaching, and to develop research methods classes and tutorials for the History department. I have also been able, in my own small way, to draw attention to USF's valuable collections through my publications and international presentations.
WHAT ARE THE NEXT STEPS IN YOUR CAREER?
I am currently putting together a book proposal based on my dissertation, "Our Gaelic Department: The Irish-Language Column in the New York Irish-American, 1857-1896." The book will hopefully have a less soporific title. I am also putting materials together for a book on Irish-language poet Pádraic Ó Beirn. I am planning on submitting more journal articles based on my research, which will focus on our Dion Boucicault Theatre Collection and extend to cover more American newspapers of the 19th and 20th centuries that carried Irish columns. I hope to run a Study Abroad course to Ireland soon; COVID-19 halted plans to move that forward! I am developing a course on Modern Ireland for the History department, which will make use of a recent donation to the Libraries from a scholar of the peace process in Northern Ireland.
WHAT ADVICE WOULD YOU GIVE SOMEONE ON A SIMILAR PATH AS YOURS?
Believe in yourself and trust the process. Do not listen to the tired and nagging voices that offer nothing but negativity. When someone stabs you in the back, treat it like a push forward and press on. Avoid those who consistently say "No;" seek out colleagues who instead say, "Let's find a way to make it work." Dream big, but be prepared to put in the effort.
HOW HAS IT BEEN WORKING AND STUDYING DURING A PANDEMIC?
At first, I thought the work-from-home model might benefit my research process. Wrong! Everything slowed down and became more complicated. But, like everyone else, I just had to find a way to get it all done.
FACED WITH THESE CHALLENGES, HOW DID YOU BALANCE IT ALL?
I made regular plans: This all needs to get done today, so if it takes me from 5:45 a.m. 'til 11:30 p.m. to get it all done, so be it. Weekends were dissertation writing while the family went on fun adventures. It did often feel like sleep was a privilege and not a right.
WHAT'S ONE SKILL OR FACT YOU LEARNED ABOUT YOURSELF OVER THE PAST YEAR OF THE PANDEMIC?
I realized that many of the sayings and expressions my Dad used to use somehow remained repressed inside my mind until a pandemic kept two kids home 24/7. Suddenly, I began throwing out dozens of phrases I used to swear I'd never use. Even now, my Dad's probably telling Jimi Hendrix to "Quit fiddle-farting around."
IF YOU WEREN'T SOCIAL-DISTANCING RIGHT NOW, WHAT WOULD YOU BE DOING?
I'd be planning my trip to Ireland! We'd hoped to bring the kids over for a few weeks as well. Sigh. Someday!
---
Congratulations on graduating, Dr. Knight! And thank you for your ongoing contributions to USF and the Libraries! We are so proud, and so lucky to have you. GO BULLS! 🤘