Maleena Tran is a Student Assistant in the Stacks department at the Tampa Library, and is graduating with her Bachelor's in Biomedical Science this Spring! In her off time, she enjoys doing puzzles and spending time with my friends.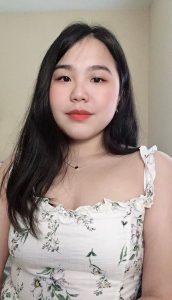 HOW HAS THE LIBRARY CONTRIBUTED TOWARD YOUR ACADEMIC GOALS?
The Library has provided me space and resources to do well in my classes.
HOW HAS WORKING AT THE LIBRARY AIDED IN YOUR CAREER GOALS?
Working at the Library has provided me the freedom to explore and research other careers in different fields.
WHAT ARE THE NEXT STEPS IN YOUR CAREER?
I am still currently figuring out which career is the best fit for me.
WHAT ADVICE WOULD YOU GIVE SOMEONE ON A SIMILAR PATH AS YOURS?
I would say to take your time and explore all your options to see what is the best for you.
WHAT HAVE YOU ENJOYED MOST ABOUT WORKING AT THE LIBRARY? WHAT WILL YOU MISS MOST?
What I enjoyed the most about working at the Library was how relaxing it is, and I will greatly miss the people that I worked with.
HOW HAS IT BEEN WORKING AND STUDYING DURING A PANDEMIC?
Fortunately working during the pandemic was not challenging, as the project I am involved in required no contact with others. As for studying, I found it difficult due to distant learning which affected my studying habits and focus.
FACED WITH THESE CHALLENGES, HOW DID YOU BALANCE IT ALL?
Having a planner to create a set schedule for myself.
WHAT'S ONE SKILL OR FACT YOU LEARNED ABOUT YOURSELF OVER THE PAST YEAR OF THE PANDEMIC?
I learned that I have a difficult time adjusting to a change in lifestyle.
IF YOU WEREN'T SOCIAL-DISTANCING RIGHT NOW, WHAT WOULD YOU BE DOING0?
I would be making plans to hang with my friends.
---
Congratulations on graduating,  Maleena! And thank you for your contributions to the Tampa Library. Good luck, and GO BULLS! 🤘