Lydia Symens is a Special Collections Student Assistant at USF Tampa Library, and graduating with her BA in International Studies this Spring! She loves to read and spend time outside.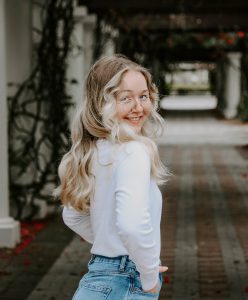 HOW HAS THE LIBRARY CONTRIBUTED TOWARD YOUR ACADEMIC GOALS?
The Library has helped me remain focused and created a routine during this past year which helped me tackle virtual school.
HOW HAS WORKING AT THE LIBRARY AIDED IN YOUR CAREER GOALS?
I hope to one day be a lawyer, so working with research-focused and organizational tasks has helped me mentally prepare for that career.
WHAT ARE THE NEXT STEPS IN YOUR CAREER?
I am planning on working in a legal setting during my gap year prior to attending law school.
WHAT ADVICE WOULD YOU GIVE SOMEONE ON A SIMILAR PATH AS YOURS?
I would tell them to be sure they are balancing their time in a healthy way; the rest is just as important as the work. You're a person first and student second!
WHAT HAVE YOU ENJOYED MOST ABOUT WORKING AT THE LIBRARY? WHAT WILL YOU MISS MOST?
I have enjoyed spending time with the books in Special Collections—it is such a unique addition to the Library and such a cool resource. I will miss getting to work with the books and my wonderful coworkers and boss, who helped make working virtually this past year more bearable.
HOW HAS IT BEEN WORKING AND STUDYING DURING A PANDEMIC?
It has been very difficult working and studying during the pandemic, since virtual interfaces make it harder to stay focused and motivated.
FACED WITH THESE CHALLENGES, HOW DID YOU BALANCE IT ALL?
I have found the best way to balance is to create a routine within my own home to give myself some normalcy.
WHAT'S ONE SKILL OR FACT YOU LEARNED ABOUT YOURSELF OVER THE PAST YEAR OF THE PANDEMIC?
I learned the value of spending time alone!
IF YOU WEREN'T SOCIAL-DISTANCING RIGHT NOW, WHAT WOULD YOU BE DOING?
I would be traveling; I canceled many trips this past year and am patiently waiting to reschedule them.
---
Congratulations on graduating, Lydia! And thank you for all you've done for the Tampa Library. We wish you all the best in the future! GO BULLS! 🤘