Here at the USF Tampa Library, our student assistants are essential to our day-to-day operations. Always hardworking, friendly, and reliable, they support the needs of our university community while pursuing degrees in an array of majors—representing many colleges on campus. They work all over the Library, from Interlibrary Loan to Human Resources, and are invaluable to our success.
To shine a light and say thank you for their contributions, we're kicking off our very first student spotlight with senior Victoria Dunkley, student assistant in Stacks for three and a half years. We interviewed her about her experience working at the Library and the impact it's had. Victoria is graduating this December with a Bachelor of Science in Cell and Molecular Biology, and we can't wait to see all the wonderful things she'll accomplish.
Thank you, Victoria, and congratulations on graduating! GO BULLS! 🤘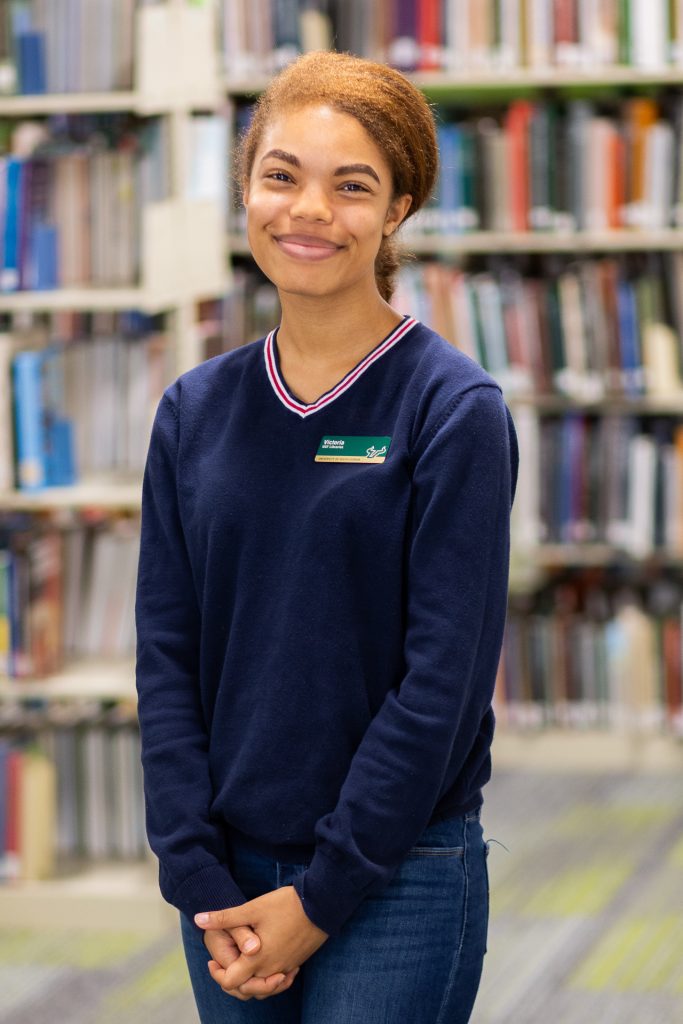 How did the USF Tampa Library help you achieve your academic goals?
USF LIB gave me a safe and flexible work environment that allowed me to excel in my studies without the pressures of a stressful work place. The LIB made it known that I was a student first, worker second.
What Library resources did you use to be a successful student?
I used online journals and photo editing programs in the DMC.
How has working here supplied you with skills for the real world?
Working at the Library has made me a systematic thinker. There are so many little tasks that have to be done to ensure that the building runs smoothly and is up to standard for patrons.
How did you maintain a work/study balance?
I sat down at the start of each semester and found a work schedule that fit with my academic needs. I also took off near exams to give myself adequate study time.
What did you learn as a student employee?
My greatest takeaway was time management. The majority of our work is independent so it's up to me to be accountable and efficient with my time.
What's your favorite memory of working here?
I have a lot of fond memories with my coworkers in and out of work. My favorite memory was sitting outside on the swings with them during our breaks.
What are your future plans?
I hope to secure a lab job upon graduating to strengthen my lab skills during my gap year. I plan to take an entry exam, like the GRE, and apply to graduate school.