Kaley Williams is a Front Desk Associate at the Library Services Desk at the USF Tampa Library. She is graduating with a Bachelor's in Public Health this Spring! Kaley loves trying new viral TikTok foods and telling stories with her roommates when she's not working or studying.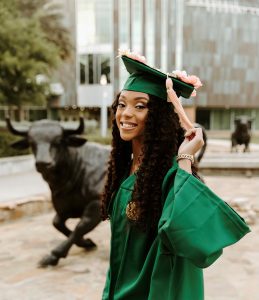 HOW HAS THE LIBRARY CONTRIBUTED TOWARD YOUR ACADEMIC GOALS?
The Library has allowed me to work on my time management skills by balancing work and school, and it also put me in touch with amazing resources for my coursework here at USF.
HOW HAS WORKING AT THE LIBRARY AIDED IN YOUR CAREER GOALS?
Working at the Library has put me in touch with people who have transitioned through going to college and working after graduation.
WHAT ARE THE NEXT STEPS IN YOUR CAREER?
I will be continuing my education to pursue Nursing as a second degree and working a Public Health job.
WHAT ADVICE WOULD YOU GIVE SOMEONE ON A SIMILAR PATH AS YOURS?
There are multiple ways of doing something, and all of them can lead to the same desired goal.
WHAT HAVE YOU ENJOYED MOST ABOUT WORKING AT THE LIBRARY? WHAT WILL YOU MISS MOST?
One of the things I have enjoyed most about working at the Library are the connections I have formed with the staff and students who come in. Seeing the relief on a patron's face when you just helped them find a book they have been trying to locate, get set up to take an important exam, get an important paper printed out, etc. is amazing.
HOW HAS IT BEEN WORKING AND STUDYING DURING A PANDEMIC?
It has been quite the adjustment that I am happy to say USF prepared me for. Every single semester at USF I had online classes since I was not able to get certain ones in person, and this prepped me for going 100% online.
FACED WITH THESE CHALLENGES, HOW DID YOU BALANCE IT ALL?
I balanced these challenges by giving myself downtime in the form of leisure or extra hobbies I picked up over quarantine (eating lol).
WHAT'S ONE SKILL OR FACT YOU LEARNED ABOUT YOURSELF OVER THE PAST YEAR OF THE PANDEMIC?
You don't need people to be happy, but they sure do make it easier to be happy!
IF YOU WEREN'T SOCIAL-DISTANCING RIGHT NOW, WHAT WOULD YOU BE DOING?
I would love to be going to concerts or doing mini road trips.
---
Thank you for your ongoing commitment to helping patrons, Kaley! And congratulations on graduating! We wish you much success; and as always, GO BULLS! 🤘