Reading Time:
4
minutes
Juneteenth is a holiday celebrating and commemorating the emancipation of the last enslaved African Americans in the United States, where on June 19, 1865, federal troops arrived in Texas to demand all enslaved peoples be free. This was two years after the Emancipation Proclamation was signed by President Abraham Lincoln on January 1, 1863.
Juneteenth has long been celebrated in the African American community, but wasn't made an official federal holiday until most recently, when President Biden signed it into law on June 17, 2021, to take effect immediately. This makes the Juneteenth celebration on Saturday, June 19, 2021 the very first federal Juneteenth holiday in American history. Juneteenth marks our country's second independence day, as well as Jubilee Day, which celebrates the Emancipation Proclamation.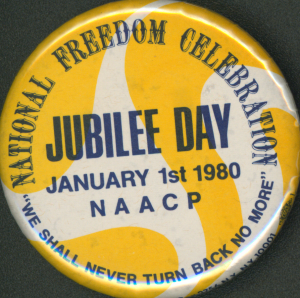 In 1980, the NAACP established January 1st as Jubilee Day, an annual celebration of the Emancipation Proclamation. The date called for a national celebration of freedom to commemorate Black heritage and history.
In the USF Tampa Special Collections, the Robert W. And Helen S. Saunders Papers feature a selection of NAACP Jubilee materials, including sheet music written for the special day.
Robert William Saunders, Sr. was born on June 9, 1921 and was a Tampa native. He was a veteran of WWII, and after returning from the war, had a column called "Central Avenue Buckshot" in the city's Black newspaper, the Florida Sentinel Bulletin. Saunders earned his B.A. in 1951, and during his time at Ford Motor Company became active in union affairs and supported the local branch of the NAACP. After the murder of Harry T. Moore in 1951, he was appointed Field Director for the NAACP, State of Florida. Between 1952 and 1966, he developed programs aimed at increasing NAACP membership and fundraising. He also investigated police brutality cases, increased voter registration, secured salary increases for Black teachers, and worked to end racial segregation in the public schools.
In 1966, Saunders moved to Atlanta to head the Southeast Regional Civil Rights section of the Office of Equal Opportunity. When he returned to Tampa in 1976, he became the Director of the Hillsborough County Equal Opportunity Office, and during his eleven-year tenure, developed the Civil Rights Program, the Fair Housing Program, the Minority Business Project, EEO Contract Compliance, and the Human Rights Ordinance for Hillsborough County.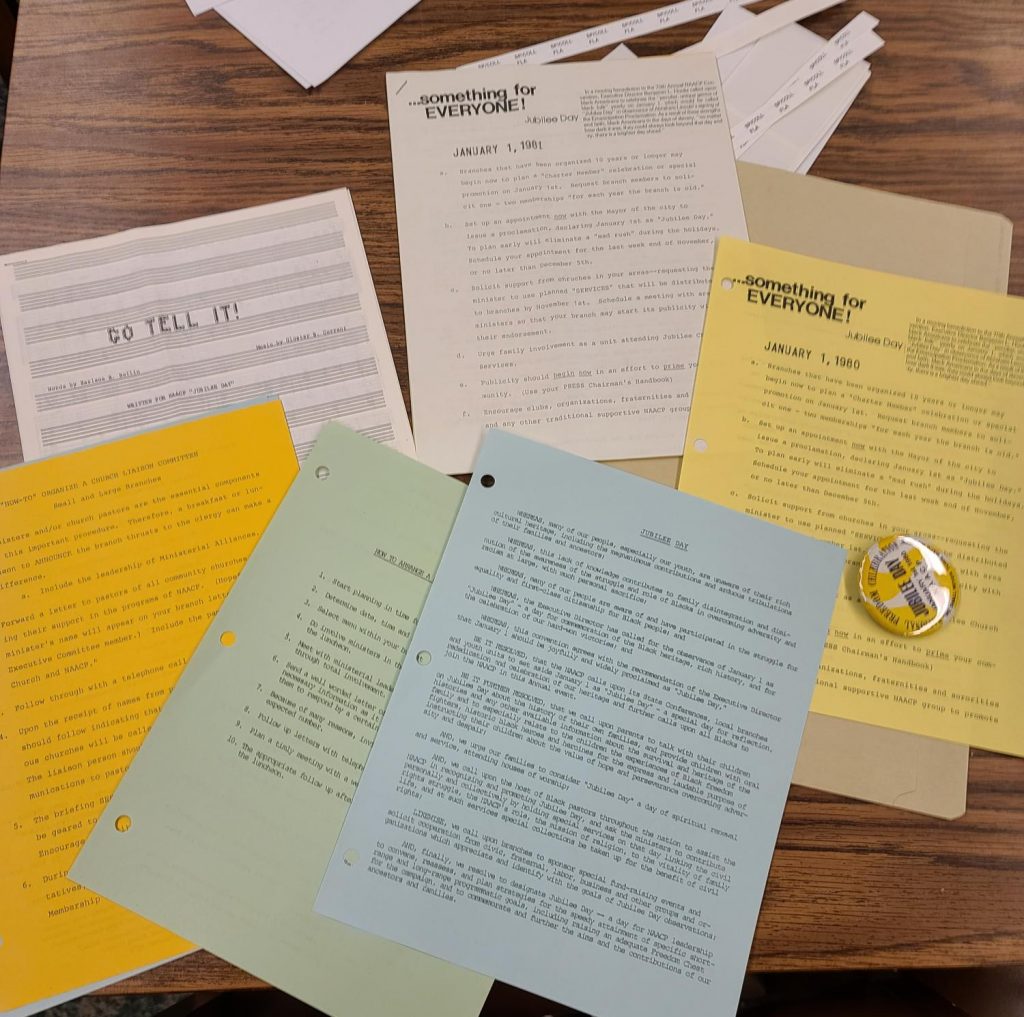 During his career, Saunders received numerous awards including the Martin Luther King Jr. Leadership Award from Florida A & M University, the honorary degree of Doctor of Public Service from the University of Tampa, and the honorary degree of Doctor of Humanities from the University of South Florida. He died on March 18, 2003. His grandparents, Bahamian immigrants, were founding members of the Tampa Chapter of the NAACP in 1917.
Helen Strickland Saunders, Saunders' wife, was born in Mims, Florida, and attended Bethune-Cookman College in Daytona Beach. After graduation, she joined the Tampa office of the Central Life Insurance Company of Florida as a claims clerk. In 1985, she was appointed Personnel Director, and retired in 1989. Helen served as secretary of the Tampa Branch of the NAACP from 1964 to 1976 and as president from 1976 to 1981.
Robert and Helen were esteemed community leaders, and their collection includes materials beyond Jubilee Day, including NAACP activities, civil rights, affirmative action, voter registration, school desegregation, equal employment opportunity, fair housing, and equal access for the disenfranchised.
We invite you to explore their collection and the snapshot of materials below—and on June 19th and January 1st, we encourage you to celebrate these tremendous and important dates of independence and the cultural heritage and history of African Americans.