Jennifer Slagus is a full-time staff member at the Tampa Library, and is the College Coordinator for the Textbook Affordability Project (TAP) team. A returning USF bull, she received her Bachelor of Arts in English Literature with a minor in Philosophy in 2017, and this Fall she's graduating with a Master of Arts in Library & Information Science!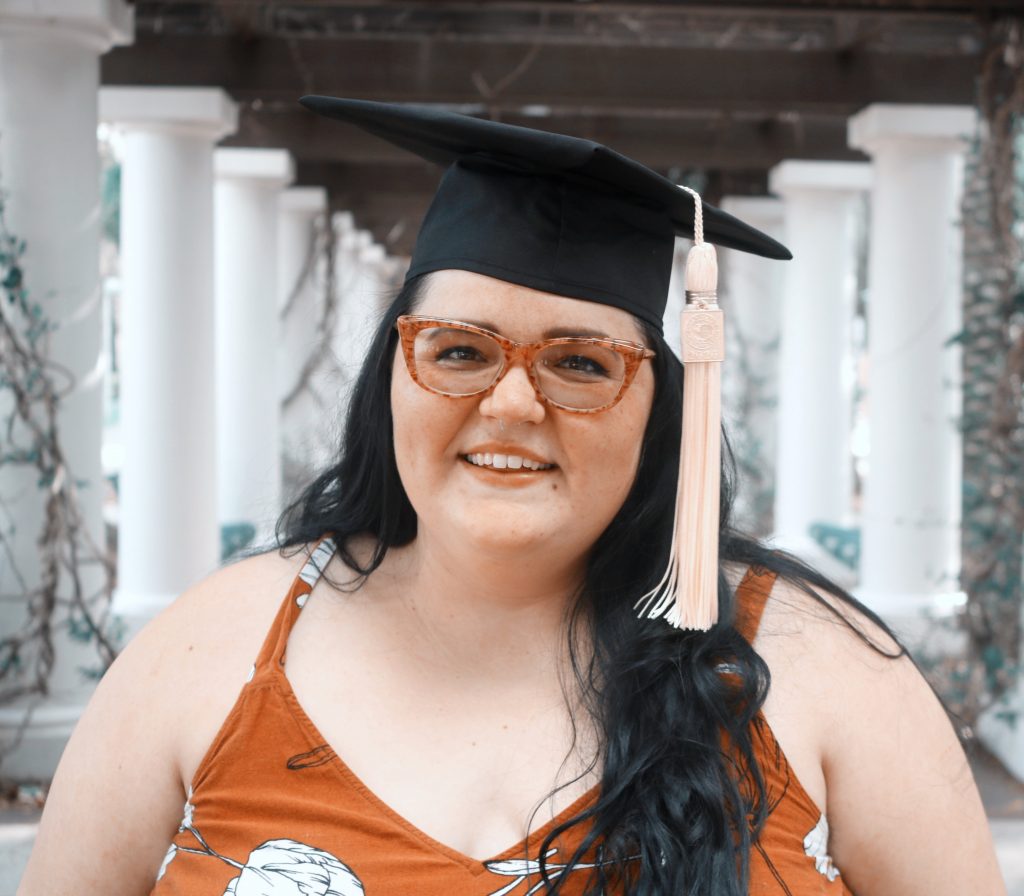 HOW HAS THE LIBRARY CONTRIBUTED TOWARD YOUR ACADEMIC GOALS?
To put it simply, the Library is the reason it was possible for me to even get this degree. Without working here, I wouldn't have thought to pursue Library Science, nor would I have had the means to enroll, so I'm thankful for the opportunity! The Library has also allowed me to mirror my academic coursework through real world experience, which has proven invaluable to grasping the full context in the classroom.
HOW HAS WORKING AT THE LIBRARY AIDED IN YOUR CAREER GOALS?
The Library has provided me with opportunities to present at conferences, apply what I learned in the MLIS to real experiences, and make connections with great colleagues who have all taught me so much about myself and what it means to be a librarian.
WHAT ARE THE NEXT STEPS IN YOUR CAREER?
My next steps will probably be pursuing an Education or Library Science PhD and researching representations of neurodiversity in middle grade prose and graphic novels.
WHAT ADVICE WOULD YOU GIVE SOMEONE ON A SIMILAR PATH AS YOURS?
Take on any and all opportunities you can to learn and be a part of the happenings around you. Focus on what makes you happy, and don't be afraid to make a swift change — things will work out and if they don't, something else will.
HOW HAS IT BEEN WORKING AND STUDYING VIRTUALLY? HOW DID YOU BALANCE THEM BOTH?
Working from home has been a  positive change for me! I'm thankful that I can still complete all required aspects of my job, sleep in instead of commuting an hour each way, and get things done around the house on my lunch breaks. I miss the fun I had in the office with my coworkers, but we still find every opportunity to get the virtual laughs in!
My study experiences haven't changed much since the MLIS program was 100% online. However, I've had to plan times where I can turn off the work/school brain and just relax. It's difficult when work, school, and home all happen in the same physical location, but scheduling my personal "time off" has definitely helped me retain the work/life balance.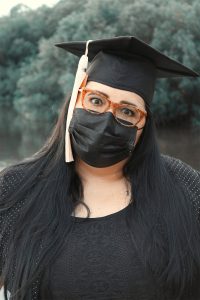 WHAT'S ONE SKILL OR FACT YOU LEARNED ABOUT YOURSELF OVER QUARANTINE?
Quarantine helped me realize how productive I can still be at home when structure and routines are less rigid, but also reminded me that self-worth and success is not tied to productivity alone.
IF YOU WEREN'T SOCIAL-DISTANCING RIGHT NOW, WHAT WOULD YOU BE DOING?
Spending time with others. I miss my family and friends, but wishing everyone stays well so we can celebrate twice as much in the years to come!
---
Congratulations on graduating, Jennifer! And thank you for your ongoing contributions to textbook affordability, and to the Libraries' success. We're lucky to have you! GO BULLS! 🤘