As the Spring 2020 semester comes to a close, we would like to thank our graduating seniors and congratulate them by giving them the spotlight.
Ivy Nguyen served as graduate student assistant in USF Tampa Library's Special Collections. Ivy will be graduating with a Master's in Library and Information Sciences this semester.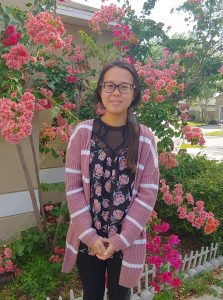 HOW HAS THE LIBRARY AIDED IN YOUR ACADEMIC GOALS?
I actually started out as an intern for the USF Tampa Library during my senior year in undergrad. It turned out to be such a great experience for me that I decided to enroll in USF's Master of Library and Information Science and pursue a degree that would help me start a career in that field. Being able to take courses on librarianship while also putting those lessons to actual use at work was a fantastic opportunity. I was able to draw from my experiences at work to add into my course assignments and projects as well!
HOW HAS THE LIBRARY AIDED IN YOUR Career GOALS?
I can't really express just how much my experience working at the Library has influenced and aided me in my career goals. Working up in Special Collections has helped me realize that I can balance working alone with archival materials and interacting with patrons quite well. I find great satisfaction in seeing a collection processed and ready to go, and also after successfully helping a patron out with their research needs. Along with working with an absolutely amazing team, my time in Special Collections has definitely cemented the fact that I made the right choice in pursuing a career as a librarian.
what Are THE next steps in your career?
I think I'd like to branch out and try working in a public library setting. I took a few courses on public libraries, and I think gaining experience there would definitely complement the skills I've already built up from working at the USF Tampa Library. Of course, I'll always keep an eye out for career opportunities in academic libraries, especially those working with archival materials—USF Special Collections really made a huge impact on me!
HOW do you feel about THE changes in commencement?
I actually wasn't going to walk in Commencement, so the changes in that regard don't really affect me. Though I know walking is a big symbolic act to wrap up an important part of your life, I think most people have inflated it into a public show more than anything; I don't see the appeal of spending money to get my three minutes of walking across a stage. However, I do feel for those whose big Commencement plans have to be pushed to the curb for a bit, but we should really all focus on the main achievement—finally getting that completed degree!
what are your self-isolation tips for those stuck at home?
Keep talking to your friends and coworkers! Try to stick to a regular routine! I know it can be super easy to slip into a lazy mood and just slog through the week without really doing much, but that can lead to bad habits that will be really hard to break down the line. And also, no snacking too much, something that's really tempting coupled with there being nothing to do and with the fact that the fridge is so easily accessible now. Every time you get the urge to snack, start chugging cold water!
if you weren't social-distancing right now, what would you be doing?
I would probably be spending most of my time up in Orlando at Disney Springs and Universal Studios with my favorite person in the world. Hi, Bao!
---
Thank you, Ivy, and congratulations on graduating! We wish you much success in your future accomplishments. GO BULLS! 🤘