Ishama Erinac is a Student Assistant at the USF Tampa Library in the Stacks department. She is graduating this Spring with a degree in Environmental Science and Policy, and loves DIY home decorating.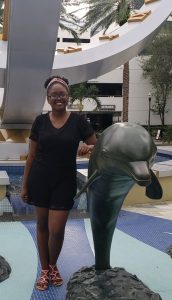 HOW HAS THE LIBRARY CONTRIBUTED TOWARD YOUR ACADEMIC GOALS?
It's given me the knowledge about resources that I could use to elevate my assignments and projects, thus pushing me to aim higher in my academia.
HOW HAS WORKING AT THE LIBRARY AIDED IN YOUR CAREER GOALS?
It has provided me with skills like attention to detail, tactful/courteous communication with people, and helped me improve my time management skills. All of these will be good skills to have in my career goals.
WHAT ARE THE NEXT STEPS IN YOUR CAREER?
My next step is to work in water resource management, public or private.
WHAT ADVICE WOULD YOU GIVE SOMEONE ON A SIMILAR PATH AS YOURS?
My advice would be to find ways to remain motivated and intentional with what you hope to achieve.
WHAT HAVE YOU ENJOYED MOST ABOUT WORKING AT THE LIBRARY? WHAT WILL YOU MISS MOST?
What I've most enjoyed is the goal-oriented atmosphere that the entire Library has. Everyone is there for a reason and my helping to maintain order has contributed to people being able to get a step closer to their goal.
HOW HAS IT BEEN WORKING AND STUDYING DURING A PANDEMIC?
Studying during this time has been challenging because it became harder to remain focused and maintain structure.
FACED WITH THESE CHALLENGES, HOW DID YOU BALANCE IT ALL?
I managed to balance it all by finding accountability and keeping my mind set on being intentional with the things that I do.
WHAT'S ONE SKILL OR FACT YOU LEARNED ABOUT YOURSELF OVER THE PAST YEAR OF THE PANDEMIC?
I learned that I foster peace in times of uncertainty and in chaotic situations.
IF YOU WEREN'T SOCIAL-DISTANCING RIGHT NOW, WHAT WOULD YOU BE DOING?
I would be doing things like indoor rock climbing or planning an out of the country trip.
---
Congratulations on graduating, Ishama ! And thank you for all of your contributions! Good luck in all your future endeavors, and GO BULLS! 🤘