This excerpt is taken from the USF Magazine Winter 2020 issue, USF Heroes Among us: The USF community responds to COVID-19 with resilience, creativity and compassion. Additional photos have been added.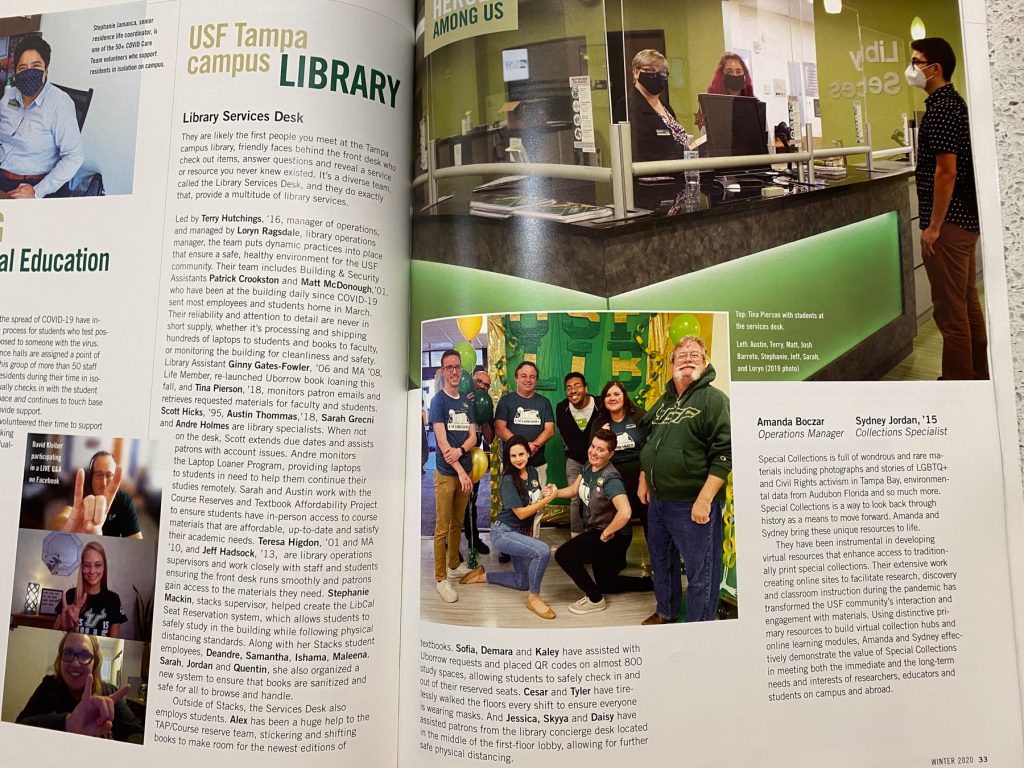 Library Services Desk
They are likely the first people you meet at the Tampa campus library, friendly faces behind the front desk who check out items, answer questions and reveal a service or resource you never knew existed. It's a diverse team, called the Library Services Desk, and they do exactly that, provide a multitude of library services.
Led by Terry Hutchings, '16, manager of operations, and managed by Loryn Ragsdale, library operations manager, the team puts dynamic practices into place that ensure a safe, healthy environment for the USF community. Their team includes Building & Security Assistants Patrick Crookston and Matt McDonough,'01, who have been at the building daily since COVID-19 sent most employees and students home in March. Their reliability and attention to detail are never in short supply, whether it's processing and shipping hundreds of laptops to students and books to faculty, or monitoring the building for cleanliness and safety. Library Assistant Ginny Gates-Fowler, '06 and MA '08, Life Member, re-launched Uborrow book loaning this fall, and Tina Pierson, '18, monitors patron emails and retrieves requested materials for faculty and students. Scott Hicks, '95, Austin Thommas,'18, Sarah Grecni and Andre Holmes are library specialists.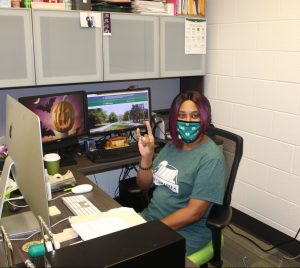 When not on the desk, Scott extends due dates and assists patrons with account issues. Andre monitors the Laptop Loaner Program, providing laptops to students in need to help them continue their studies remotely. Sarah and Austin work with the Course Reserves and Textbook Affordability Project to ensure students have in-person access to course materials that are affordable, up-to-date and satisfy their academic needs. Teresa Higdon, '01 and MA '10, and Jeff Hadsock, '13, are library operations supervisors and work closely with staff and students ensuring the front desk runs smoothly and patrons gain access to the materials they need. Stephanie Mackin, stacks supervisor, helped create the LibCal Seat Reservation system, which allows students to safely study in the building while following physical distancing standards. Along with her Stacks student employees, Deandre, Samantha, Ishama, Maleena, Sarah, Jordan and Quentin, she also organized a new system to ensure that books are sanitized and safe for all to browse and handle.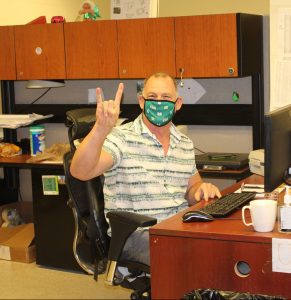 Outside of Stacks, the Services Desk also employs students. Alex has been a huge help to the TAP/Course reserve team, stickering and shifting books to make room for the newest editions of textbooks. Sofia, Demara and Kaley have assisted with Uborrow requests and placed QR codes on almost 800 study spaces, allowing students to safely check in and out of their reserved seats. Cesar and Tyler have tirelessly walked the floors every shift to ensure everyone is wearing masks. And Jessica, Skyya and Daisy have assisted patrons from the library concierge desk located in the middle of the first-floor lobby, allowing for further safe physical distancing.
Special Collections: Amanda Boczar and Sydney Jordan
Special Collections is full of wondrous and rare materials including photographs and stories of LGBTQ+ and Civil Rights activism in Tampa Bay, environmental data from Audubon Florida and so much more. Special Collections is a way to look back through history as a means to move forward, and Amanda Boczar, operations manager, and Sydney Jordan, '15, collections specialist, bring these unique resources to life.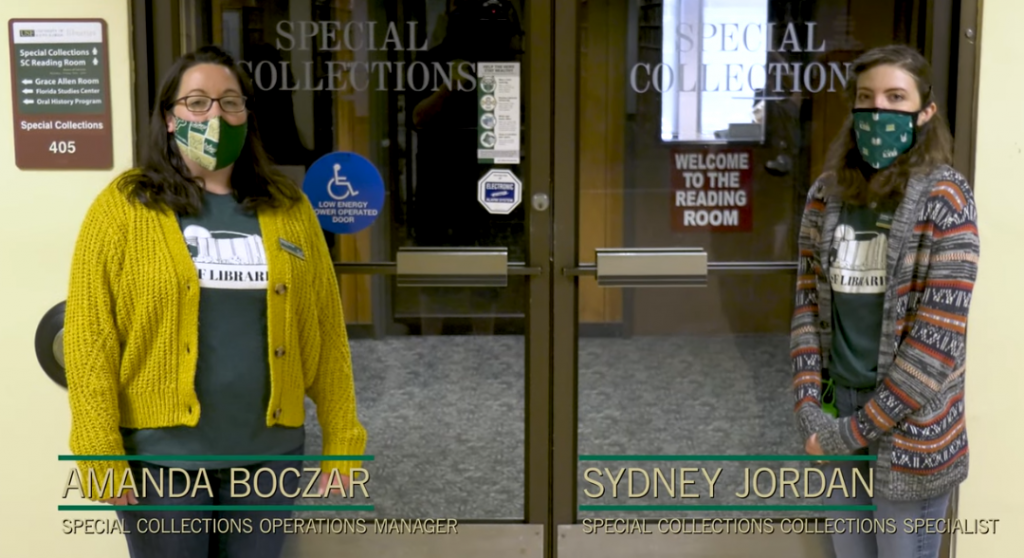 They have been instrumental in developing virtual resources that enhance access to traditionally print special collections. Their extensive work creating online sites to facilitate research, discovery and classroom instruction during the pandemic has transformed the USF community's interaction and engagement with materials. Using distinctive primary resources to build virtual collection hubs and online learning modules, Amanda and Sydney effectively demonstrate the value of Special Collections in meeting both the immediate and the long-term needs and interests of researchers, educators and students on campus and abroad.