Gregory Foster is one of our USF Tampa Library Research Assistants (LRAs) and a past Front Desk Assistant. He will be graduating this Fall with a Bachelor's in Interdisciplinary Social Sciences with concentrations in Information Studies and Sociology!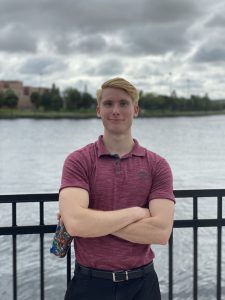 HOW HAS THE LIBRARY CONTRIBUTED TOWARD YOUR ACADEMIC GOALS?
Being a Library Research Assistant (LRA) has drastically accelerated my academic goals. Being in a professional environment helping the Academic Librarians here at USF has solidified my passion for Information and Library Science, and convinced me to apply to the MLIS major which I will be starting in the Spring of 2021. Becoming highly experienced with the academic databases used at USF has helped my class research projects immensely.
HOW HAS WORKING AT THE LIBRARY AIDED IN YOUR CAREER GOALS?
The library has provided a safe and supportive environment over the years in which I felt free to explore various career paths. I began college here at USF with the intention of becoming a Physician's Assistant, but my extremely positive experience in the library system encouraged me to rethink my passions. I now have the goal of becoming an Academic Librarian at a public or private university with specializations in Data Science and Data Visualizations.
WHAT ARE THE NEXT STEPS IN YOUR CAREER?
The next steps for me are: getting a graduate assistantship or some sort of steady income for graduate school, learning as much as I can inside and outside of the MLIS program, and securing a position somewhere as an Academic Librarian.
WHAT ADVICE WOULD YOU GIVE SOMEONE ON A SIMILAR PATH AS YOURS?
I would tell them that if they have the interest and creativity, there are hundreds of paths within the Library Science and Information Science fields that offer a very fulfilling profession. You can take any set of skills or knowledge, be it medical expertise or law, and turn it into a profession in these two fields. It is highly diverse and highly rewarding. I would 100% recommend learning as much as possible about your various interests online, and deeply. LinkedIn Learning, YouTube, Khan Academy, and so many other places are free to us at USF and have quality information just waiting to be accessed. Don't waste the opportunities at your fingertips by only doing your class work. A lot of the things I've learned outside of the classroom (partially through being an LRA) have really molded my interests and career path. I NEVER considered data science or programming as even possible for me until I started trying.
HOW HAS IT BEEN WORKING AND STUDYING VIRTUALLY? HOW DID YOU BALANCE THEM BOTH?
For me, the only challenge this semester has faced me with, has been finding the time to do all that I want to do outside of my mandatory responsibilities. My job as an LRA transfers quite nicely to an online platform, and most of my classes were online anyways, so that wasn't a big change.
WHAT'S ONE SKILL OR FACT YOU LEARNED ABOUT YOURSELF OVER QUARANTINE?
I've learned that I really need social interaction to thrive. Thankfully I live in an apartment with most of my best friends, and my girlfriend is just around the corner. Others haven't been so lucky, so please check in on your friends and family living alone at the moment.
IF YOU WEREN'T SOCIAL-DISTANCING RIGHT NOW, WHAT WOULD YOU BE DOING?
If I weren't social distancing I would be working in the physical library, I really do miss that… I also miss Campus Rec which is recently closed.
---
Congratulations on graduating, Gregory! We thank you for all of your contributions as an LRA, and to the Tampa Library and beyond. We wish you much success. GO BULLS! 🤘