event Wednesday, March 17, 2021
access_time 6:30PM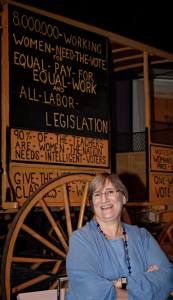 Curator Lisa Kathleen Graddy discusses the Smithsonian's National Museum of American History's "Creating Icons" exhibit and what a 100-year-old collection can tell us about the woman suffrage movement and modern women's activism.
Florida Conversations is free and open to the public, and is co-sponsored by the USF Libraries and supported by WUSF Public Media, and features authors and presenters covering a variety of Florida topics, from politics to fiction, history to environmental issues.
For more information, contact the History Center at (813) 228-0097.