Celebrating our students and their academic achievements is one of our favorite pastimes, and under normal circumstances, we'd be gathering in the Tampa Library to honor our most recent round of student scholarship and research award recipients, and the donors who made their awards possible. But due to COVID-19 and a mostly virtual Fall semester, we are all staying safe at home and shining a digital light on our impressive Fall 2020 scholars.
The Libraries' scholarship and research award program ensures USF students are given opportunities to learn, discover, and succeed. Help us celebrate and congratulate these incredible Bulls, and thank our donors and friends for their generosity.
To apply for the current cycle of scholarships and research awards for 2021-2022, head to Awardspring at www.usf.edu/financial-aid/scholarships/.
(Beyond each quote below, taken from thank you letters and statements, some students shared a video about their award, and what it's meant for their academic and personal pursuits.)
---
Creative Writing major, graduating 2021
"This award and research that I've done will definitely have a positive impact on my future. There's going to be opportunities that will open up; jobs and educational opportunities now that I have credentials in Queer Studies. Thank you to the donor for enabling me to participate in this opportunity."
---
Ashlie Flanigan

, Altrusa International of Tampa Inc. Scholarship Recipient

Graduate student in Library and Information Science
"Thank you for the Altrusa International Scholarship…. [it] will have a great impact on my studies in the fall. As I transition from teaching to librarianship, your funding and access to the Altrusa Collection will both be very helpful. This scholarship will help me focus on my Library and Information Science studies, and hopefully work a little less at my current position. Again, I truly appreciate your investment in my scholarship, and I commit to doing good work with the opportunity you've given me. In these uncertain times, libraries and the people who work in them need more support than ever, and I applaud you for investing in our community in this way."
---
Kevin Jacques

, Samuel Y. Fustukjian Memorial Scholarship Recipient

Concurrent degree-seeking student in the Taneja College of Pharmacy PharmD program and the Masters of Pharmaceutical Nanoscience program, graduating 2022
"I would like to go into the field of oncology pharmacy, and am currently involved in Apha Operation Men's Health where we are dedicated to educating and increasing awareness of men's health and well-being in the community. I am also a brother of the Kappa Epsilon Beta Tau chapter, which is a professional pharmacy fraternity. Outside of pharmacy, I work with inner city kids at local high schools to promote their activity in sports programs to help build character and allow them to have a positive outlet.

After looking into the scholarship requirements and the work of Samuel Y. Fustukjian as Director of Libraries for USF, I thought I would be good fit for the scholarship. To be a Fustukjian memorial scholarship recipient to me meant being an individual who is well-rounded, works to improve the lives of those around him/her, and loves the library. I would like to extend my thanks for awarding me the scholarship and assure them I will continue to represent the university and the Fustukjian scholarship in a positive light."
---
Larissa Diez

, Tampa Campus Library Scholarship Recipient

Psychology major, graduating 2022
"I originally came to USF thinking I wanted to be a high school guidance counselor, but after being on campus, I fell in love with the university. I am now hoping to someday become an academic advisor at USF. I have amazing supervisors in the Special Collections Department of our library, this is where I first heard of the scholarship. I decided to apply and was so grateful when I realized that I had been chosen. The fact that I am able to earn a scholarship through a job that I already love, is truly a blessing. During these tough times, it helped more than you could ever know. Thank you so much."
---
Alexandra Berrios

, George & Bobbe Karpay Book Scholarship Recipient

Biomedical Science major with minor in Psychology, graduating 2023
"What interested me most in applying for this scholarship is the opportunities it gave to needful students among the Hillsborough community to further their education. I want to thank my donors from the bottom of my heart for providing me with the funds and support to continue pursuing a higher-level degree. You have made a tremendous impact on my life and I will forever be thankful for making my dreams possible."
---
Brooke Pavek

, Boyadjian Family Endowment Recipient

Honors History major, graduating 2023
"My interest in applying to this scholarship came from a general liking and respect for Armenian culture. For years, I have been involved with cultural festivals and following social media accounts dedicated to a variety of cultures online. One account I had particularly watched was one dedicated to Armenian and other Caucus cultures. The intricate traditional outfits and the surprising hidden similarities between Armenian culture and my own Slavic culture had surprised me. Cultural festivals and Armenian cultural accounts and blogs had fostered a love for Armenian culture inside of me. My attraction to this scholarship was due to the experiences I had bonding with Armenians online and in-person. I wanted to share my experience with the culture and how it had affected my own cultural perspective.

Thank you so much to the Boyadjian family for this scholarship! [It] has allowed me to take multiple classes expand[ing] my global perspective. The scholarship has inspired me to do even more research into Armenian history and culture that often gets ignored in our society. Thank you so much for opening new doors to new passions in regards to Armenian culture and history!"
---
Katherine Sarsfield

, Boyadjian Family Endowment Recipient

Seeking Masters in Education in Curriculum and Instruction with a concentration in Science Education and Biology, graduating 2021
"I applied for this scholarship to share my love and pride of my Armenian heritage. I am extremely honored, proud, and grateful to have been chosen to receive this gift toward my education. Thank you for choosing me to receive the Boyadjian Family Endowment scholarship. I am very humbled by receiving this gift. Go Bulls!"
---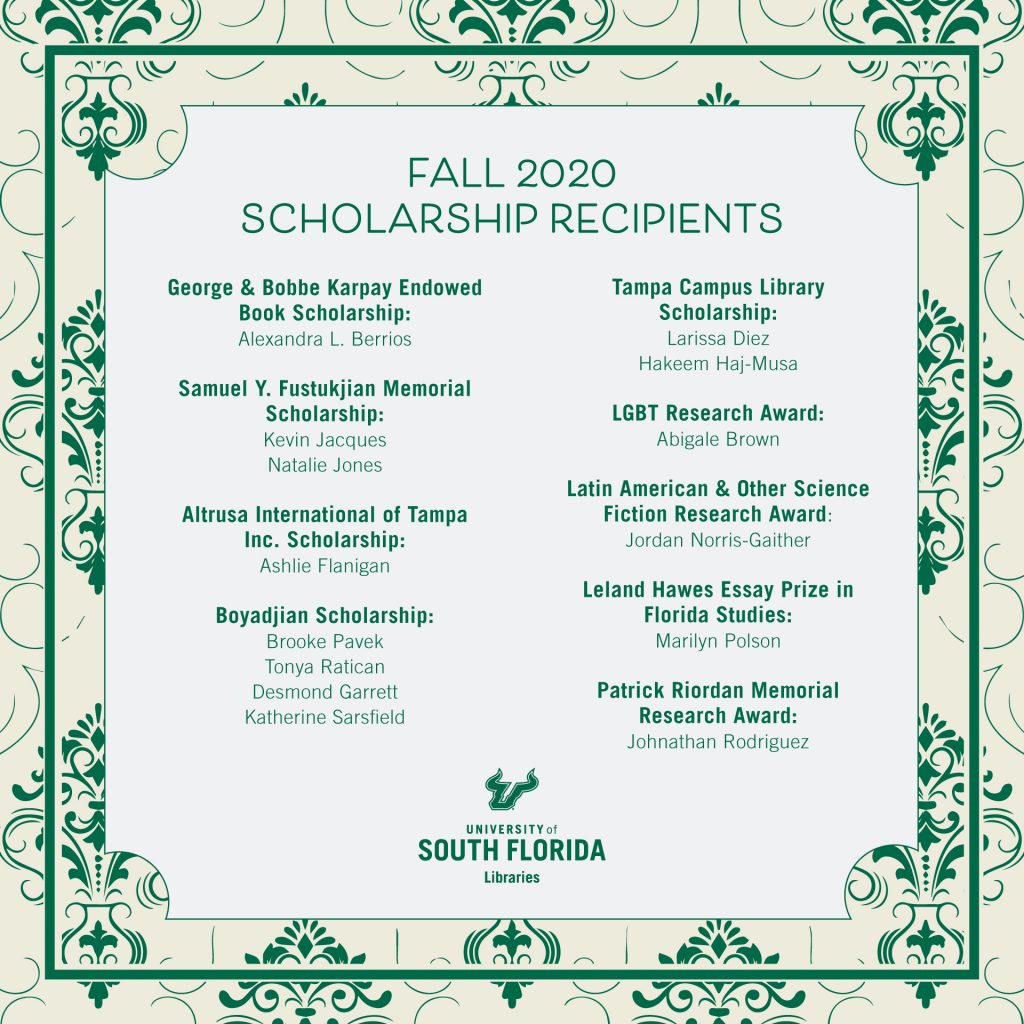 If you are interested in supporting our students, please contact our Office of Development.