Reading Time:
2
minutes
Christina Wisz Stevens is the Associate Director of Development for the USF Libraries on the Tampa campus. She is graduating this spring with her Master of Public Administration (MPA). Christina loves checking out new restaurants with her husband Dalton, taking their sweet dog Mia to all the dog friendly spots in Tampa, and cheering on our USF Bulls and Tampa Bay Lightning (Go Bulls and Go Bolts!).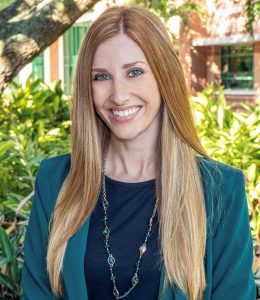 How has the Library contributed toward your academic goals?
USF Libraries Dean Chavez has always been supportive of me continuing my education, and wrote one of my recommendation letters to help me get into the MPA program at USF.
How has working at the Library aided in your career goals?
Being a frontline fundraiser and community outreach liaison for the Library for the past 3 1/2 years has been a challenging and rewarding position. We are in a unique spot not having alumni, but with the help of many of my colleagues we have worked together to establish a significant donor base, as well as new and innovative fundraising programs. Being in this position has solidified my passion for helping and supporting students in their academic endeavors.
What are the next steps in your career?
I hope to continue to advance and develop my craft as a fundraiser and am considering obtaining a PhD. I would love to be able to bring my real-world experience back to the classroom someday as a college professor. I had the opportunity to do a directed research project as a part of my graduate coursework and am currently working on (hopefully) publishing my first academic paper!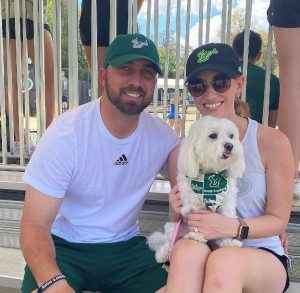 What advice would you give someone on a similar path as yours?
I was intimidated going back to school while working full time but was able to make it work with good time management and discipline. In my opinion, education is priceless, and I will be forever thankful for my opportunity to be a graduate student at USF.
What is one skill or fact you learned about yourself over the past year/through the pandemic?
Although nothing will replace in-person interaction, I've learned to do many parts of my job more effectively and efficiently remotely! Technology is amazing.
What has been most exciting to get back to now that things are returning to a new normal?
Seeing my professors and fellow classmates in person—it has been nice to connect not through a screen.
---
Congratulations on graduating, Christina! We are so lucky to have you and thankful for all you do to support the USF Libraries and our students. Thank you for your many contributions. GO BULLS! 🤘