Chelsea Sherwood is both our Collections Student Assistant and Student Lead in the Collections and Discovery department at the Tampa Library. She'll be graduating with a Bachelor's in Psychology with a Minor in Criminology, and a Certificate in Substance Abuse and Addictions Counseling!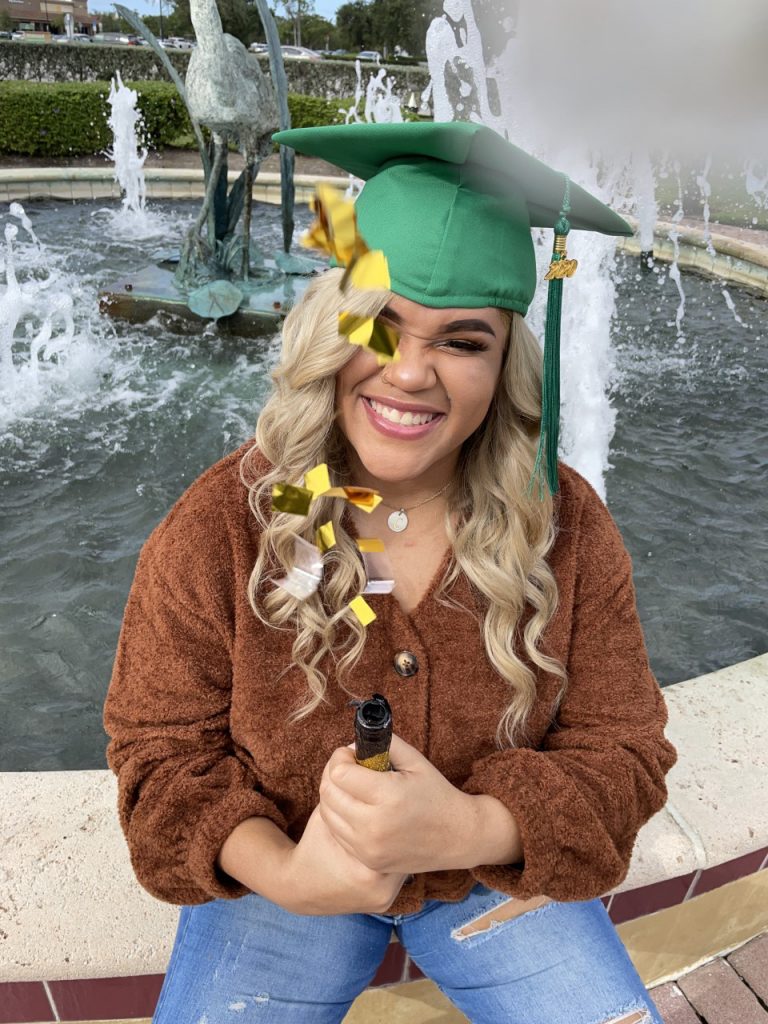 HOW HAS THE LIBRARY CONTRIBUTED TOWARD YOUR ACADEMIC GOALS?
The library, in addition to providing a productive study environment off the clock, has provided me with additional practice in Academic Reference Management, allowing me to improve research skills necessary for college courses.
HOW HAS WORKING AT THE LIBRARY AIDED IN YOUR CAREER GOALS?
Working in the library has provided me the skills to communicate with other professionals in an office setting.
WHAT ARE THE NEXT STEPS IN YOUR CAREER?
For now, I will be using this upcoming semester to job hunt and study for the GRE in order to attend graduate school. While attending graduate school, I would like to use my degree and certificates earned here at USF to work in a rehabilitation center helping others with their mental health.
WHAT ADVICE WOULD YOU GIVE SOMEONE ON A SIMILAR PATH AS YOURS?
Persevere! Take life one step at a time and things will fall into place.
HOW HAS IT BEEN WORKING AND STUDYING VIRTUALLY? HOW DID YOU BALANCE THEM BOTH?
At times, it feels like an endless stream of work, both academic and workwise. I am fortunate to have a position that allows me to continue working from home throughout the pandemic, and I stay balanced by taking a break from the screen and spending time with my roommates.
WHAT'S ONE SKILL OR FACT YOU LEARNED ABOUT YOURSELF OVER QUARANTINE?
I can handle anything life throws at me at this point.
IF YOU WEREN'T SOCIAL-DISTANCING RIGHT NOW, WHAT WOULD YOU BE DOING?
To put it simply: I would travel. Upon graduation I would have liked to backpack through Europe, relax in Brazil, road trip across the US, or visit Toronto to take a break from the Florida heat.
---
Thank you for your contributions to the Library, Chelsea! And congratulations on graduating! We wish you much success; and as always, GO BULLS! 🤘