Catherine Cardwell has accepted the offer to serve as dean of University Libraries at the University of Nevada, Reno. Cardwell has had a dual appointment at the University of South Florida as the Regional Associate Vice Chancellor of Academic Affairs and Dean of the Nelson Poynter Memorial Library on the St. Petersburg campus. She is also the co-editor of Leading Change in Academic Libraries (ACRL, 2020).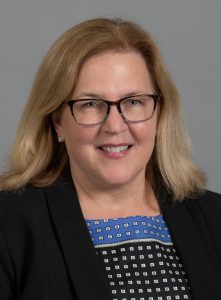 Cardwell started at USF in 2016, and has made an immense impact as library campus dean. She has invested in library renovations, including an exterior beautification project that added shade, seating, and wi-fi outdoors, and is actively engaged in major plans for a first-floor renovation using a $1 million estate gift from the Josephine Hall estate, as well as a $250,000 cash gift. Her implementation of the textbook affordability initiative has saved students more than $1 million since 2017. She also led the digitization efforts of The Weekly Challenger, a newspaper that has documented the history of St. Petersburg's African American community since 1967. The project received $300,000 from the Florida Legislature, and the library now serves as the newspaper's archive for current electronic issues (as well as continuing to digitize and archive historical print issues).
In 2019, Cardwell became Regional Associate Vice Chancellor of Academic Affairs while maintaining her responsibilities at the library. She took on budget oversight, and collaborated with leadership on educational, research, and outreach goals. Her contributions to consolidation were numerous, as she worked on committees on all campuses to ensure a smooth transition into one single accredited institution. Her service has been tremendous to USF.
Previously, Cardwell served as library director at Ohio Wesleyan University and in various leadership roles at Bowling Green State University. Cardwell earned her bachelor's in English and French from Youngstown State University, a master's in French language and literature from the University of Pittsburgh, and a master's in Library Science from Kent State University.
Moving to University of Nevada, Reno is a natural next step in Cardwell's career path and moves her closer to family.
"I truly loved working with the faculty, staff, and students at USF's St. Petersburg campus and will miss the wonderful people I've met," Cardwell said. "I'm so proud of the work we've done here to promote student success and position our faculty for continued excellence. At the same time, I'm thrilled to be accepting this new position and looking forward to tackling the challenges ahead."
Please join the USF Libraries in thanking Cardwell for her leadership and dedication to USF, and congratulations on her next role. She will be missed by all who know her.