We would like to honor and acknowledge the career of Bernadette Storck, public librarian, consultant, archivist, and adjunct faculty member for the USF School of Information. Storck was an administrator at the Tampa-Hillsborough Public Library System and Leon County Public Library, and was President of the Florida Library Association. She helped to create the Pinellas Public Library Cooperative, serving as its first director. Storck established and curated the archives of the Florida Library Association, which are held at the USF Tampa Library.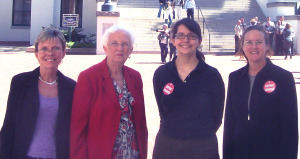 Storck was an active adjunct faculty member for the USF School of Information in its early days, teaching at remote campuses and flying in an airplane rented from the Brisco Brothers to Fort Myers, Orlando, Brevard County, Lakeland, and Sarasota. She was Founding Committee member to establish the Alice G. Smith Lecture series at the School of Information, which recognizes a scholar or author's achievements that have been instrumental in librarianship or information studies. Storck also donated a collection of framed art prints from Florida Legislative Days to the School.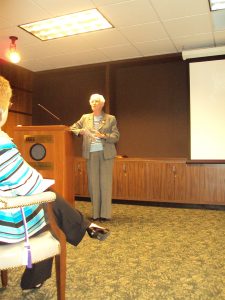 A scholarship is named in her honor, The Bernadette Storck University of South Florida scholarship, and is annually awarded to a USF School of Information (SI) student by the Florida Library Association. Storck was highly respected and admired for her teaching and mentoring, and how she modeled participation in the legislative process by accompanying SI students to Legislative Library Days in Tallahassee.
Learn more about Storck in her 2009 oral history, and read some of her publications including "From the FLA Archives: A Collection of Events, Facts and Personages from the Past."
Bernadette Storck will be missed and forever remembered. If you'd like to leave a message for the family, you can do so on her obituary.
To honor Ms. Storck, gifts can be made to the Special Collections Operating Fund. If you are interested in learning more, contact Christina Wisz, Associate Director of Development at cwisz@usf.edu, or 813-974-3888.