Reading Time:
6
minutes
This article was originally published in June 2020 in celebration of Pride Month. It has been updated with additional resources for LGBTQ+ History Month.

In the LGBTQIA+ community, June represents the ongoing strides being made to fight for equality, create awareness, build acceptance, and celebrate accomplishments. October is dedicated to LGBTQ+ History, founded by Rodney Wilson in 1994, and acknowledges the growth and history of the community.
The first gay rights organization in the United States was the Society of Human Rights, founded on December 10, 1924 in Chicago by German immigrant Henry Gerber. Since its inception, and the first American publication for the LGBTQ+ community, "Friendship and Freedom," there has been a constant momentum to create equal and safe access to goods, services, and facilities, as well as participation in employment, marriage, and military service—without the threat of discrimination.
The 1950-60s brought a period of change, as minority groups began demanding acknowledgement and respect. In Los Angeles, gay rights activist Harry Hay created the organization The Mattachine Society and magazine publication "Mattachine Review" as a way to change public perception of homosexuality by "eliminat[ing] discrimination, derision, prejudice and bigotry" and "assimilate homosexuals into mainstream society." In 1969, the three-day Stonewall riots in New York would be the catalyst to ignite the LGBTQIA+ movement in America and around the world.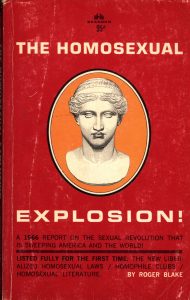 The Stonewall riots took place in New York City's Greenwich Village, and began as the police raided the Stonewall Inn bar, a popular safe space for the gay, lesbian, and transgender community. The gay youth protested against police aggression for three days, from June 27-29th. Five months after the riots took place, activists at the Eastern Regional Conference of Homophile Organization in Philadelphia proposed an annual march in New York City on the last Saturday in June to commemorate the raid. During the conference, activist and planning committee member L. Craig Schoonmaker helped develop the slogan of "pride" and the official chant of the march: "Say it loud, gay is proud." The first gay pride parade was June 28, 1970, and the rainbow flag, designed by Gilbert Baker, joined the march on June 25, 1978.
Legislation on LGBTQIA+ rights continued throughout the 1970s and into the 21st century, with landmark cases such Harvey Milk's introduction of a gay rights ordinance, protecting gays and lesbians from being fired from their jobs in 1977; the 1990 Ryan White Care Act, a federally funded program for people living with AIDS, enacted by President George Bush; the Matthew Shepard Act, approved by Congress and signed by President Barack Obama, which expanded the 1969 U.S. Federal Hate Crime Law to include crimes motivated by a victim's actual or perceived gender, sexual orientation, gender identity or disability; the repealing of the 1993 Don't Ask, Don't Tell Policy in 2010; and the 2015 Obergefell v. Hodges Supreme Court case that ruled same-sex marriage legal in all 50 states.

The USF Libraries' Special Collections has dedicated several collections of historically significant LGBTQ items to inspire research, learning, and understanding. The LGBTQ+ Collections consist of monographic, audio-visual, ephemeral, and archival materials that focus on documenting history, culture, politics, community relations, and public health. Major themes throughout the collections include identity, sexual orientation, gender identity, gender studies, feminism, activism, and legal rights. We have also included an extensive collection of young adult literature with the Ted Hipple Collection of Young Adult Literature. Many authors in this collection write LGBTQIA+ stories from OwnVoices perspectives.
To aid in the research of our extensive LGBTQ+ Collections, Special Collections' Sydney Jordan, Collections Specialist, and Amanda Boczar, PhD, Operations Manager, have assembled a primary source document hub called "Topics in Gender & Sexuality History," designed specifically for HIS 3002 – Research and Methods. The hub includes a sampling of documents and books organized around Women in Politics, Gender & the Community, Sexuality Studies, and LGBTQ+ Community & Activism.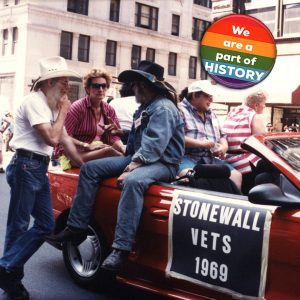 Jordan and Boczar have also curated a Special Collections Virtual Tour: History Department Edition to showcase archival materials. Designed to model itself after a class visit to Special Collections, it provides a behind-the-scenes look into our closed stacks, and invites students to explore several of our major collecting areas, from rare books dating to the 15th century to the LGBTQ+ Rights Movement.
The majority of our LGBTQ+ Collections are centered on the Tampa Bay area, and express the sentiments of the LGBTQIA+ community in an effort to educate and tell the narratives and stories of local activists. We invite you to explore our LGBTQ+ Collections to discover more about the movements and the community.
Eunice M. Fisher collection – A collection of materials gathered by Eunice Fisher, who moved to the Tampa Bay area later in life and became involved in LGBT activism.
LGBTQ Ephemera Collection – Collection of magazines, ephemera, pamphlets, buttons, stickers, photographs, and clothing items relating to LGBT communities in the United States and Europe.
Diana Estorino papers – These papers are from Diana Estorino, who was the editor of the lesbian periodical, "Network News."
Rex Maniscalco Collection – An Ybor City native, Rex Maniscalco experienced and participated in the emergence of a visible LGBTQ+ community in the Tampa area. From the early Pride picnics and festivals, to the beginnings of Equality Florida, Rex was there, camera in hand, to document the people who have been instrumental in creating the LGBTQ+ community and culture. Rex captured gay history in the making, offering a photographic history of gay lives and activism in Tampa.
Queer Literature – This collection contains works of popular fiction, poetry, and scholarly monographs relating to LGBTQ+ issues, and assorted periodicals.
USF Pride Alliance Collection – The University of South Florida PRIDE Alliance (People Respecting Individual Diversity and Equality) is the oldest continuously funded LGBTQ+ student organization in the state of Florida. The Alliance provides an on-campus support system through which, by interaction with their peers, gay, lesbian, bisexual, and transgender students and their allies may realize their full potential. The Alliance educates the USF community by serving as an information reception and dispersal source to dispel myths and stereotypes often associated with gay, lesbian, bisexual, and transgender people.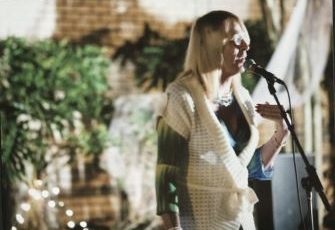 Metro Wellness Collection of Photographs – This photograph collection is comprised of hundreds of images that document the social, cultural, and political activities of the LGBTQ+ community. It contains images related to AIDS activism and remembrance, gay and lesbian choruses, pride parades, film festivals, 1993 March on Washington, the Tampa Bay Business Guild, and many more subjects. This photograph collection covers greater Tampa Bay, including St. Petersburg.
Equality Florida Collection – Primarily comprised of documents relating to the day-to-day operations of Equality Florida, formerly known as the Human Rights Task Force, this collection contains documents such as news articles dealing with Equality Florida's many projects and press releases, photographs, scrapbooks, and audio/visual materials.
For more information about these collections, go to LGBTQ+ Special Collections or email Sydney Jordan at sydneyjordan@usf.edu. If you would like to visit our Special Collections Reading Room, Fall 2020 appointments are available.
The LGBTQIA+ community continues to fight for legislation for parenting rights, relationship rights, youth advocacy, nondiscrimination, and transgender rights. As a university, USF administration created the President's Committee on Issues of Sexual Orientation and Gender Identity which outlines ways USF can eliminate discrimination against LGBTQIA+ individuals on campus. As a community, LGBTQIA+ individuals and advocates are continuing to work together to ensure the safety, recognition, and protection for all forms of sexual orientations. Learn more about allyship through USF's Safe Zone Program and check out active USF LGBTQ+ organizations.
---
Join us Monday, October 19th from 4:30-5:30 p.m., along with the USF Office of Multicultural Affairs (OMA), for Activism in the Archives: Researching LGBTQ+ History, a virtual event hosted in honor of LGBTQ+ History Month.