Some of the very best and brightest work of USF undergraduates is on display each Spring at the Undergraduate Research and Arts Colloquium, presented by the USF Office for Undergraduate Research. Featuring nearly 500 presenters, the Colloquium is the largest undergraduate research conference in the state of Florida. If you haven't yet been, it is an inspiring array of work presented by enthusiastic, focused students. Even more impressive, then, are works that stand apart from their Colloquium peers and garner research awards. Now in its fourth year, the Best Use of the Research Literature award was established in 2013 by USF Libraries Director of Academic Services Nancy Cunningham to honor scholarly work that picks up from an understanding of what work in the chosen discipline has already learned, and puts its sources to good use.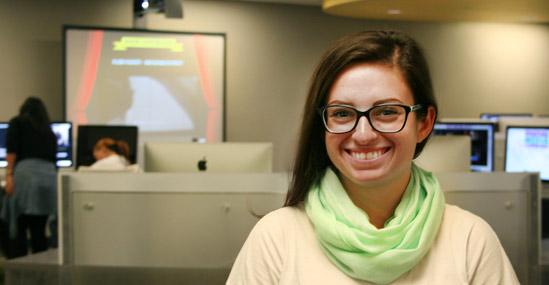 Senior psychology honors student Amanda Kerstman is the winner of the 2016 award for her undergraduate thesis, "Anthropomorphism and the Power of Effectance Motivation: Effects of Providing Information on Common Bottlenose Dolphin Behavior to People High in Effectance Motivation." Kerstman availed herself of an impressive array of library resources in this project as well as throughout her academic career at USF, including electronic article databases and journals, Interlibrary Loan, an in-class library instruction session, the Library website's Google Scholar direct search interface, and the Digital Media Commons, where she edited and produced the dolphin interaction videos she showed participants as part of her study.
"The Library award for "Best Use of the Research Literature" this year goes to Psychology Honors student Amanda Kerstman. Amanda's passion is marine mammals. Her bibliographic essay focused on the impact of anthropomorphism when humans interact with mammals in an aquatic setting such as an aquarium. Her highly skilled navigation and use of the research literature resulted in the discovery of important scholarship in this area. We wish Amanda the best this year as she graduates and hopes to land a job as a trainer at one of Florida's many aquariums. This is the fourth year of this award and it continues to attract a diverse group of highly skilled undergraduate researchers."
-Award Donor and USF Libraries Director of Academic Services Nancy Cunningham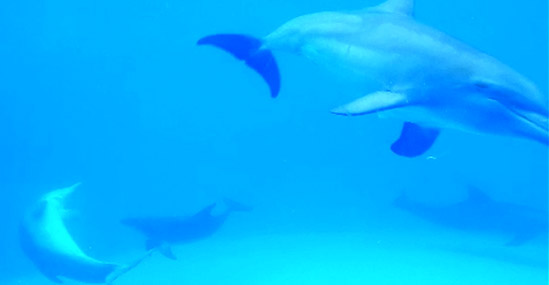 "I don't think I would have been able to do such a great job with the editing if I didn't have the (USF Libraries) Digital Media Commons. I didn't have the programs to use on my computer, nor did I have the knowledge of what settings to use to adjust the volume of the narration and sync it at the right times in the video… I just walked in and asked for help. It was very easy."
-USF Undergraduate Researcher and Award Winner Amanda Kerstman, on her experience of learning video editing at the USF Libraries Digital Media Commons in the midst of conducting her research project
Some of the most motivated undergrads participating in the annual OUR Colloquium jump-start their careers as a result of the work they present. Amanda has accepted an invitation to present on her thesis at the Alliance of Marine Mammal Parks and Aquariums annual conference this November, is working on a revision of a manuscript for the journal Aquatic Mammals, and even has two job offers – one in Bodrum, Turkey as an Apprentice Marine Mammal Trainer and the with Sea World Orlando. She plans to pursue a Ph.D. in this field.
One of 2015's two Best Use of the Research Literature award winners, Ahmed Mohamed, is graduating from USF this semester at the age of 18 and beginning law school and medical school simultaneously. Read his story here.
There are a variety of ways to support these research awards. For example, a gift of $25,000 can endow a research award like this in perpetuity, in your or your family's name. Become involved in recognizing and supporting students who are making the most of their educational opportunities: contact the USF Libraries Development office here or by calling (813) 974-4433.