Reading Time:
2
minutes
Extreme environmental and climate changes have caught the attention of politics and the news, pushing environmental sciences into the spotlight.  Like the USF Libraries Florida Environment and Natural History collections, the Atlas of Florida Plants from the Institute of Systematic Botany and USF Species Catalog have been documenting environmental studies for decades.  Both resources collect information on plant species and provide a background against which to observe changes in the botanical world.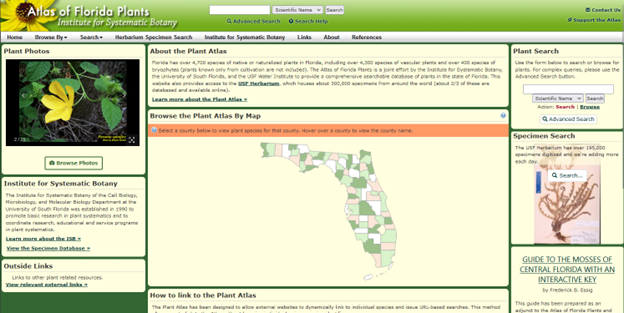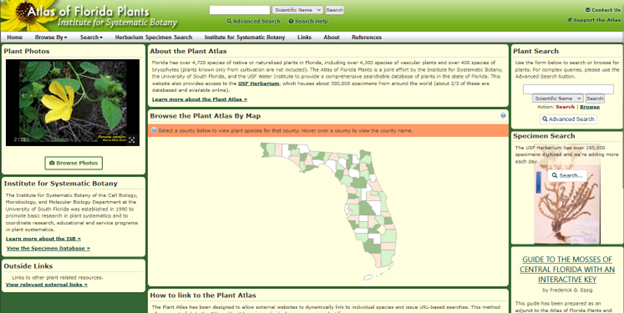 The Atlas of Florida Plants from the Institute of Systematic Botany, hosted at USF, is a creation of the Institute for Systematic Botany of the Cell Biology, Microbiology, and Molecular Biology Department of the University of South Florida.  It was established in 1990 to coordinate research into plant systematics.
Users can search by county, family, genus, scientific, and classical names, as well as specifically searching the USF Herbarium specimen collection including almost 250,000 specimens.  The Herbarium also hosts its own library of books on botany and many of their rare books are held permanently in Special Collections.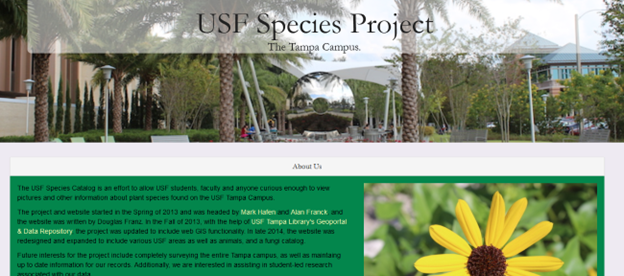 Smaller in scope than the plant atlas, and not updated as frequently, is the USF Species Catalog.  It was started in 2013 by Herbarium and Geosciences faculty at USF and includes a useful catalog of flora and fauna on the Tampa campus and the USF Forest Preserve.