Reading Time:
4
minutes
By: Amanda Boczar and Sydney Jordan 
March is Women's History Month, a time to reflect on, give voice to, and celebrate the lives of women throughout history. Women of the Tampa Bay area have no shortage of stories to tell, and many of their stories are available in USF Libraries and Tampa Special Collections. From politicians to USF Presidents, activists and artists, the archives are home to the stories of prominent figures as well as those who stayed out of the spotlight. One group who has kept their finger on the pulse of women and their lives in the Tampa Bay area since the early 1980s is the Women's Energy Bank. The leadership for Women's Energy Bank comprised several local activists, including Edith "Edie" Daly, Lee Anne "Oak" Wojtkowski, and Patricia "Pat" Ditto. 
Committed to political and cultural activities in war resistance, gay and lesbian rights, environmental activism, and feminism, the Women's Energy Bank was a non-profit organization run for women, by women. The archives of Edie Daly provide insight into their work as well as their cutting-edge publication Womyn's Words. Edith "Edie" Daly returned to her home state of Florida in 1981 and opened The Well of Happiness, a women's bookstore on Madeira Beach. Within a year, she co-founded the lesbian, feminist organization Women's Energy Bank (WEB), which hosted monthly meetings ("Salons") for its female membership and produced the monthly printing of Womyn's Words. As a member of a number of activist organizations, including Old Lesbians Organizing for Change (OLOC), Southerners on New Ground (SONG), and Women in Black, Daly's work towards world peace has taken her to Europe, Asia, and beyond. She and her wife, Jackie Mirkin, continue to live and work for peace and justice in Gulfport, Florida and around the world.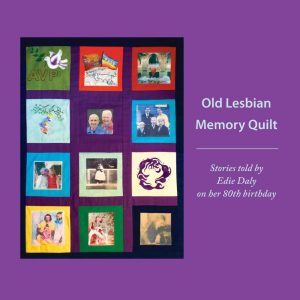 If you'd like to read more about Edie's life and activism, Special Collections holds a copy of her memoir, Old Lesbian Memory Quilt: Stories Told By Edie Daly on Her 80th Birthday.  
---
Spotlight on Sources:
Womyn's Words
USF Libraries Special Collections has received permissions to digitize the full run of Womyn's Words periodical. Eventually, all issues will be available on Digital Commons @ USF for study. Let's take a closer look at this periodical that offered a unique outlet for feminist and lesbian voices from 1983 through 2013. You may also make an appointment to view the collection in Special Collections. 
Getting Started – The First Issue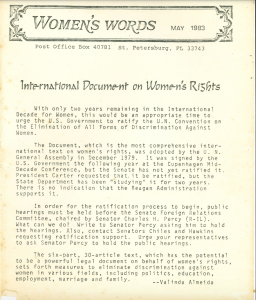 The first issue of Womyn's Words was published in May 1983 as Women's Words by the Salon, which eventually became the Women's Energy Bank. The issue ran with the cover headline "Inte-rnational Docume-nt on Wome-n's Rights," illustrating their focus on multiple perspectives and intersectionality. Highlights in the issue include features about poetry, book and media reviews, events friendly for women and lesbians, women's health, the political climate for women, as well as business and membership directories. 
Women-Run Businesses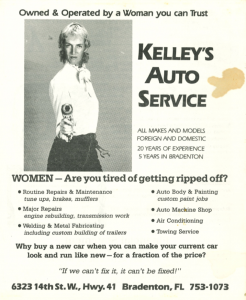 A prominent feature in every issue of Womyn's Words was the emphasis on businesses owned and operated by women. Some of these businesses even made it a point to emphasize the significance of their female ownership as part of their ethos. During the 1980s, Kelley's Auto Service juxtaposed images of Kelley alongside the question, "WOMEN – Are you tired of getting ripped off?" The slogan for the shop reads, "Owned & Operated by a Woman you can Trust." The emphasis on a community of women supporting women and the LGBTQ+ community is clear in the advertisements throughout the run of the periodical. Additional focuses on churches, support groups, and other business types helped to provide areas for connection and safety.  
Capturing History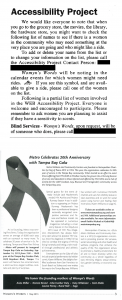 As a non-profit voice for women by women, and with an emphasis on under-represented groups, Womyn's Words often captured significant events that other mainstream publications would not have covered.
In addition, their focus on accessibility meant that issues were available in multiple formats including offering cassette recordings for visually impaired readership. Other services included ride shares for events and daily necessities.  
Events and historical overviews of community events and organizations like Metro Wellness and Community Center, a Tampa Bay hub for the LGBTQ+ community, are also captured and highlighted in the pages of Womyn's Words. This snapshot from their feature on the Metro 20th Anniversary Gala offers both a bit of history and details about where the organizations found themselves in 2013.  
As an all-around fascinating primary source, Womyn's Words provides readers with many avenues to approaching their research into the history of women and the LGBTQ+ community in Tampa Bay. Look for the full digital collection later in 2022!
---
Upcoming Event:
Women's History Month Conversation with Edie Daly and Dr. S Crawley
Join Special Collections in a Women's History Month conversation with Edie Daly and Dr. S Crawley. Edie has spent her life as a feminist, lesbian, and peace activist and has served the greater Tampa Bay LGBTQ+ community in a variety of community support roles through the decades. S. L. Crawley (Ph.D., 2002, University of Florida) is Associate Professor in the Department of Sociology at the University of South Florida. Dr. Crawley's areas of interest include gender and sexualities theories, queer and feminist theory, epistemology and qualitative methods, social psychology and sociology of sport, focusing on productions of identity and social impacts on the physical body. We will explore gender and sexuality history, as well as the role libraries serve in preserving and making accessible LGBTQ+ history materials. 
March 25, 5:30 on Zoom 
Details to follow. Please contact sydneyjordan@usf.edu for more information.